Seattle 2017 GSA workshop


Applied Geochemical Reaction Modeling


Seattle, Washington USA • 20-21 October 2017
Please join us on the shores of Lake Union in caffeinated, intoxicating Seattle, Washington for two days of hands-on training in applied geochemical reaction modeling. Then stay on in Emerald City, the coffee capital of the world, for the Geological Society of America 2017 Annual Meeting.
What you will learn. Following a fully hands-on format, you will learn to construct, trace, and interpret models of reaction in multi-component geochemical systems. Specific topics covered include:
Fluid mixing
Multicomponent equilibrium
Buffering reactions
Reaction, mass transfer kinetics
Kd, Freundlich, Langmuir sorption
Surface complexation
Polythermal reaction and mixing
Electrochemistry
Microbial catalysis and growth
Case studies and examples
Effective graphical presentation
Creating animation and video
More information? Contact workshop support. Can't come? Consider an alternative from our 2017-2018 workshop lineup.
---
I really liked the course! You have the ability to explain things in an easy way, while pointing out the key issues.
– Christian Wisskirchen, Golder Associates S.A., Santiago
The best workshop I've ever participated in. The short theoretical introductions and illustrated exercises helped me learn the software in two days.
– Valeria B., Ben-Gurion University of the Negev
Neither of us specializes in groundwater chemistry, but we found the course easy to follow and understand.
– Abby M., Horizons Regional Council, New Zealand
---
Instructors
The workshop will be presented by Brian Farrell, Melika Sharifi, and Jenny Druhan. Brian and Melika are Geochemists at Aqueous Solutions LLC, maker of The Geochemist's Workbench®.
Brian Farrell has many years of experience in developing and applying geochemical and reactive transport models. He is expert in aquifer microbiology, geochemical modeling, and reactive transport in geochemical systems. Brian has taught short courses in North and South America, Europe, Africa, Asia, and Australasia.

Melika Sharifi is an Environmental Scientist with special expertise in Actinide Geochemistry. She has many years of experience as an instructor at the undergraduate and graduate levels, and as an effective mentor in the laboratory to less experienced scientists.

Jenny Druhan is an Assistant Professor of Geology at the University of Illinois. In her research, Jenny develops reactive transport models and constructs experiments to invesigate chemical reactivity and stable isotope fractionation in groundwater flows. Jenny has led successful workshops at several previous Goldschmidt conferences.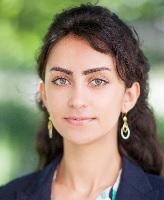 Melika Sharifi
---
Venue
Free parking is available immediately outside the club. The workshop starts at 8:30 am sharp each day and continues to about 5:00 pm.
Please arrive a few minutes early on the first day to set up your workspace. We will wrap up on the second day in time to attend the GSA Icebreaker reception.
---
Registration
Register Now
Space is limited, so sign up early. The registration fee of $699 includes all course materials.
Full-time students currently registered in a university degree program can register at the reduced rate of $599. Please bring current student identification to the workshop.
We are pleased to welcome back participants from our previous workshops at the special price of $599. For fastest verification, please sign up with the email address you used registering for the earlier course.
Each registered participant will receive a free 60-day license to The Geochemist's Workbench® 11 Professional version. We will ask you to bring to the course a laptop with the software installed and running.
Registrations may be transfered to another participant at no charge, and are fully refundable until 30 days before the workshop. Liability in the event of workshop cancellation or other eventuality is limited to refund of the registration fee.
If you wish to continue in Seattle for the GSA 2017 Annual Meeting, you must register for the conference separately.
---
Accommodations
---
Transit
Seattle-Tacoma International Airport is located about 15 miles south of the city center. From there, frequent service on the Central Link light rail line will take you downtown to the hotel district in about 35 minutes for $2.50. You may also reach downtown from the airport by taxi, Uber, or rental car.
The meeting venue is easily accessible from downtown on the RapidRide E Line, which takes you to within a few minutes walk of the Swedish Club for $2.50. As well, free parking is available outside the workshop venue.
---
Environment and safety
Seattle is considered a clean and for the most part safe city, but travelers everywhere need take precautions to protect themselves and their property.
Upon registration, you will be asked to provide an emergency contact name and telephone number, in the unlikely event of illness or accident, as well as list any special dietary requirements or medical needs.
Waitstaff in restaurants offering table service as well as taxi and shuttle drivers expect a 15% to 20% tip in the United States.
---
Hosts and sponsors
The workshop is being held thanks to the generous efforts of our hosts and sponsors: